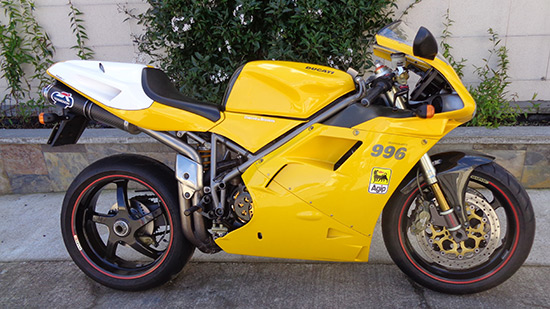 2001 Ducati 996 Monoposto
The Ultimate in Beauty and Performance. Adult Owned, Well Maintained Bike. Termignoni Mufflers with 2" Diameter Headers. Marvic Magnesium Wheels and Ohlins Rear Shock. Never Wrecked or Ridden on the Track. Recently Checked Over and Serviced. Priced to Sell, Ready to Ride.
19,884 miles
$7,400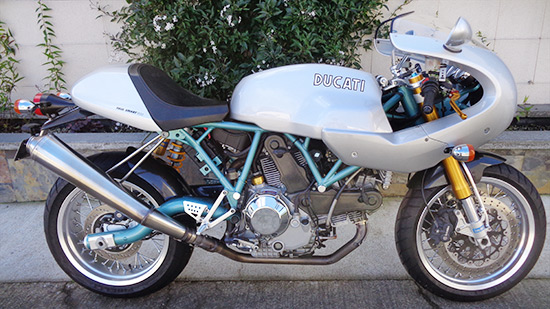 2006 Ducati Paul Smart Sport Classic
One Owner, Low Mileage Bike. A Meticulously Maintained, Rarely Ridden Machine. Ohlins Suspension Front and Rear. Factory Ducati Performance Muffler and ECU. A Fine Tuned, Clean Example. Perfect for Collectors and Enthusiast Alike. Number 16 Factory Full Fairings Included in the Sell. Just Serviced with Belts.
1,466 miles
$23,000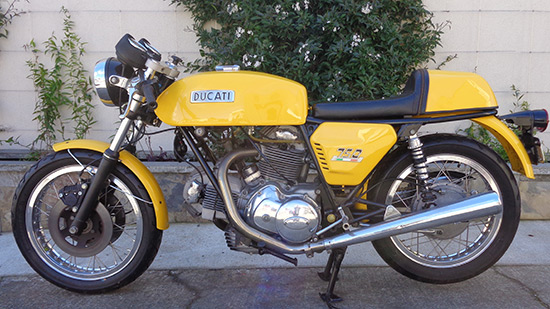 1975 Ducati 750 GT
Very Clean Conversion to a Sport Replica. Less than 300 Miles on Top End Rebuild with New Pistons and Sleeves. Well Cared for Over the Years. Sell includes All Original GT Parts Necessary to Put it Back into Stock Form if Desired. Just Serviced and Tuned. A Great Investment or Addition to Any Collection. Priced to Sell. Don't miss Out on this Opportunity.
20,780 miles
$22,500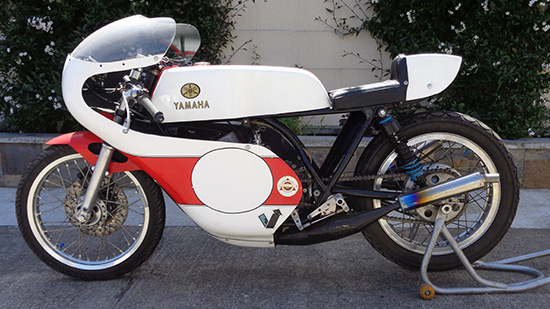 1972 Yamaha 250 TD3
Rare and Collectable Production Race Bike! The Original Over the Counter Classic Racer. A Very Nice Example of a Ready to Race 6 Speed 250cc 2-Stroke. Claimed 49HP at 10,500RPM. Last campaigned with Ahrma 6 years ago at Willow Springs. Completely Safety Wired, Fresh Tires and Rear Stand. Just waiting for the right Avid Racer or Collector.
$12,000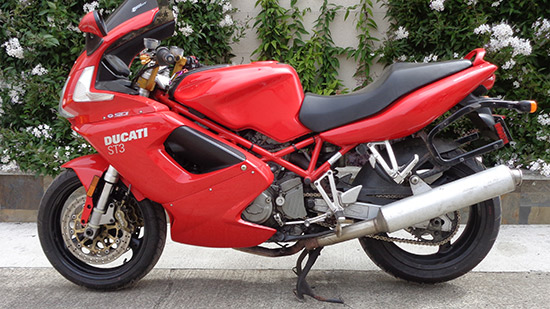 2006 Ducati ST3
Ducati's SOHC Three-Valve Sport Touring Bike. A Incredible Combination of Style, Performance and Comfort. Competent on both the Highway or your favorite Back Road. Adult Owned and Mechanically Maintained. Helibar Risers, Factory Hard Bags, CRG Levers, Zero Gravity Tall Windshield and Sergeant Seat. Ready to Ride.
51462 Miles
$4000
2004 Honda Dream 50R
Limited Edition, Production Race Bike Modeled after the Famed Honda RC110 of the Early Sixties. A Claimed 7HP at 14,000RPM. Dual Overhead Cams with a 6 Speed Gearbox. This is a bump start only Track Bike which is as fun to ride as it is to look at. This example comes with a One-Off Rob North produced Exhaust System and Custom Made Full Fairings that match those on the Original Sixties Racer.
Less then 10 Miles
$6,500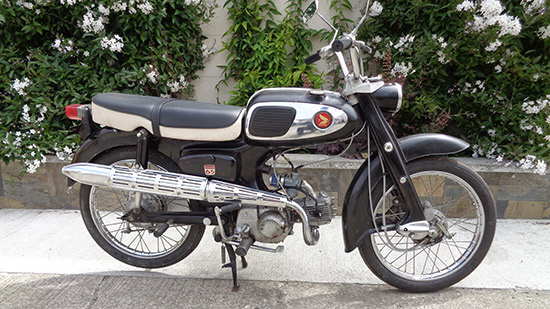 1965 Honda S65R
Small and Approachable, the shy little Honda S65 embodies everything that makes up a classic 1960s Honda motorcycle. Dependable with Great Personality. Fresh Top End Rebuild with New Piston, Valves and Guide. Easy Starting and Ready to Ride.
4 Miles
$1,800
1955 Bianchi Garelli MosquitoR
Fully Functioning all Original Example. Bianchi Bicycle with a Bolt-on 48cc Italian 2-Stroke Engine. A combination of both Italian Style and Ingenuity. Not for the faint of heart. A Conversation Piece that would look Great in Any Collection.
$1,800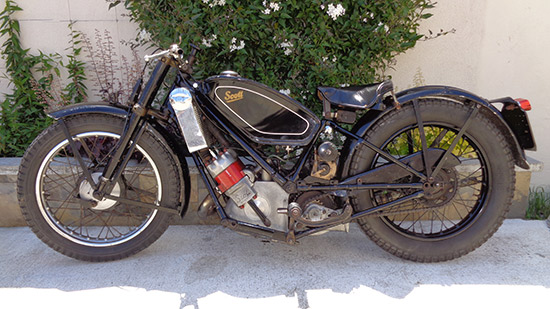 1938 Scott Flying Squirrel
A rare and unique 500cc twin, liquid cooled, two stroke. Originally produced between 1926 and 1940, the Flying Squirrel was considered lightweight, with a low center of gravity. It is best described as unconventional and had moderate success on the TT circuit. This bike was intended to be raced in the AHRMA series, but was never completed. It is stock, but is missing the headlamp and speedometer. We did start the bike with a set of rollers. The engine sounds strong, with no unusual noises or knocks. It wasn't ridden, due to the numerous radiator leaks. It will take some effort to make it fully roadworthy again, but it should be a fun project.
$7,500
CONSIGNMENTS
*Due to growth and space limitations.
The Zen House is now limiting it's number of consignment motorcycles. Only motorcycles serviced regularly at the Zen House will be considered for consignment. In addition to rare and collectible motorcycles, the Zen House will consign street legal dual sport motorcycles and small dirt bikes. Finally, all consignment motorcycles must be priced to sell.