The Mechanic
Master Mechanic, David Harris, has been fascinated with working on motorcycles since the age of fourteen, when two friends and he bought their first dirt bike, without their parents' knowledge.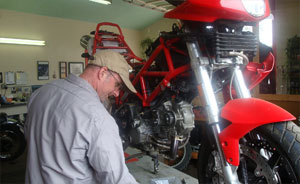 Harris worked on bikes throughout his teenage years and while attending Cal Poly, SLO.  After graduating 1991, with a degree in architecture, he discovered his passion for design; form complimenting function, did not translate into a fulfilling career within architecture.  Thus, he began his quest.
While traveling around the world on his motorcycle in 1995 and 1996, Harris decided he would dedicate himself to pursuing a livelihood through his true passion, motorcycles.  At the end of his world travels, he met his other life's love, his future wife and business partner, Kelley Litle. 
In 1998, Harris took his passion and determination to GP Motorcycles in San Diego, CA; a new Ducati Dealership.  Harris apprenticed at GP Motorcycles, growing into the Service Manager and Head Mechanic within two years.  While honing his skill, with the aid of renowned mentors and colleagues, Harris helped make GP Motorcycles one of the leading Ducati Dealership within the U.S.
When not working on motorcycles, Harris could be found racing a vintage 1970 BMW  R75/5 on the AHRMA Vintage Race Circuit.  Making older motorcycles go "really, really fast" is one of Harris's greatest passions.
While still managing the service department at GP, Harris helped develop engines for the Husqvarna Supermoto team.  Eventually, he found himself the Chief Mechanic for the Husqvarna Team, which enabled him to move to his dream location, Point Arena, CA.
Harris and business partner Litle have created a unique, full service motorcycle shop that reflects their beliefs and passions; living in harmony with the community, providing quality services at fair prices, building relationships all through his love of and devotion to motorcycles.